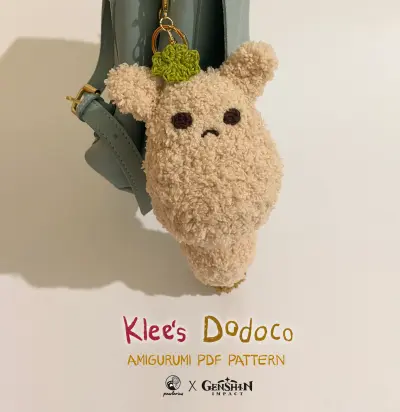 Klee Dodoco Genshin Impact
Lets make Klee's first best friend, Dodoco! You can make your own Dodoco as handmade Genshin Impact merchandise. Having problems when crochet with fuzzy yarns because we can't see the stitch? Worry not, since this pattern is using a technique that don't have that problems!
Crochet hook 2.5mm & 3.5mm
Cotton yarn 2.5mm, color: brown & green
Fuzzy cotton yarn 3.5mm, color: light brown & cream brown
Preview
Download to learn how to make your own Dodoco~!
This pattern is for personal use only, you are not allowed to sell / share / duplicate this pattern instructions in any medium. But you can sell any amigurumi dolls created from this pattern with credits from pawlarius.crafts.
Last updated at 2022-08-30T16:51:16.729Z